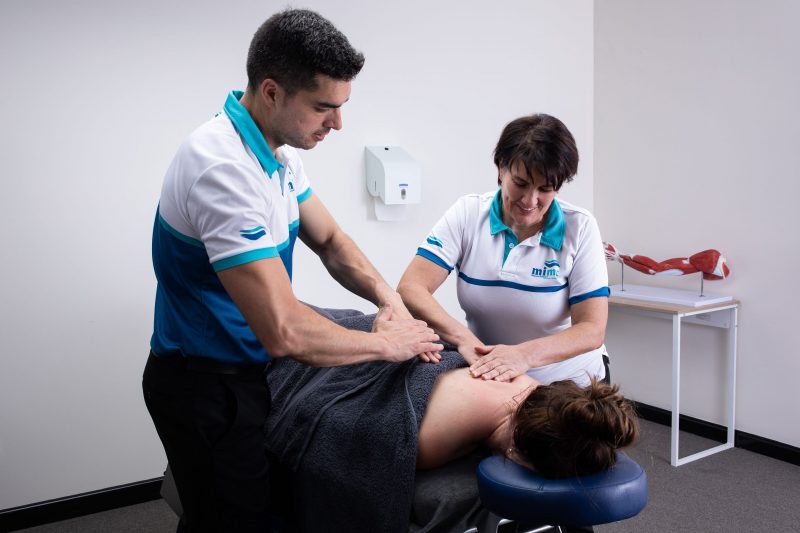 Student Clinic
We would like to welcome you to book into MIMT's student clinic.
As part of our their training, students are required to gain experience external to their course for both the Diploma of Remedial Massage (HLT52015) and the Advanced Diploma of Myotherapy (22316VIC).
This means that we invite members of the public to book in for treatments ranging from relaxation or remedial massages to  Myotherapy at a heavily discounted rate of $25 for a 1 hour treatment.
Our clinic is fully supervised by a qualified therapist & lecturer at the college and proceeds from the clinic are donated back into the community. MIMT at present is proudly supporting the Olivia Newton John Cancer & Wellness Centre situated across from the college, adjacent to the Austin Hospital.
Our clinic is run at certain times of the year and is extremely popular, so is operated on a first come, first served basis.
A booking system will soon be available online, however if you want to make a booking or be kept informed of upcoming dates, then please call us on 1300 839 839.
You have the option of booking in for a 1 hour Relaxation massage, Remedial Massage or Myotherapy and if you can state at the time of booking which one you require.
Please note that clinics are conducted when students reach a certain stage of their course so not all treatments will be available all year round.
Please call to enquire.
So what's the difference?
What is a Remedial Treatment?
A Remedial massage takes more of a clinical approach and students will have the ability to take you through a clinical assessment to determine the source of your soft tissue dysfunction using range of motion testing for example.
The treatment you would then receive would be specific to the findings of this assessment and as they progress through the course they would use techniques such as:
Trigger Point Therapy
Vacuum Cupping
Transverse Frictions
Myofascial Release
To explain further we have put together a short video below which explains further what to expect from a Remedial Treatment.
What is Myotherapy?
Myotherapy and massage are two distinct professions.
In common with physiotherapists, osteopaths and chiropractors, myotherapists may use massage in their treatments, when warranted, but they also call upon a wide range of other evidence-based treatment approaches and skill-sets which in addition to manual therapy, dry needling, and thermo and electro-therapeutic techniques may include; exercise prescription and/or education about pain management, load management, activity modification and/or lifestyle modification.
In common with the aforementioned allied health professions, myotherapy has it's own separate qualifications, specifically the Advanced Diploma of Myotherapy, which qualify practitioners to undertake evidence-based assessment, treatment and rehabilitation of patients experiencing musculoskeletal pain and associated conditions.
Myotherapists will have completed the Diploma of Remedial Massage as a pre-requisite to this course.
Making a Booking
Therefore when you make a booking for our student clinic can you please state whether you would like a "Relaxation Massage" , "Remedial Massage" or "Myotherapy"
If you have any questions regards the type of treatments available, then please contact the office and we'll be happy to explain the differences.
We look forward to seeing you in the clinic soon.