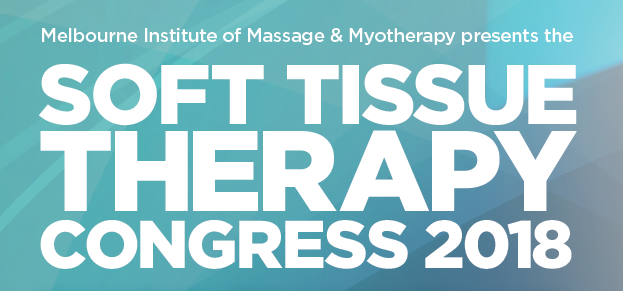 Module overviews
Rob Granter (BsocSci (Deakin), AdDipRemMass (Myo)(RMIT)
"Key factors in De-loading stress on the Supraspinatus – Controversy, Conclusions & Collaborations"
This presentation will examine Glenohumeral pain arising from the Supraspinatus muscle, particularly its tendon and what possible interventions can be implemented to de-load this stress.
Controversies will be examined in relation to:
the appropriateness of using the term impingement syndrome,
the usefulness of current assessment tests,
the role of postural assessment
the contribution of scapula dysfunction
and is soft tissue therapy useful?
In relation to forming conclusions for effective management for Glenohumeral pain, as the condition can be complex & multifactorial, involving the entire body, we encourage therapists to practice good clinical reasoning to assess the efficacy of any interventions they may use. A range of possible techniques will be demonstrated, including manual therapy, movement modifications & appropriate exercises, based on the findings of relevant assessment.
To achieve successful client outcomes collaborations with other health practitioners may be required. We will explore & discuss the possible referral options.
Wendy Kemp B.App.Sci (Phys Ed), NLP Master Practitioner and Master Hypnotherapist, Cert IV Personal Training
Treating Mindfully for Success
This Motivational Presentation will include
The mind body connection and how understanding the mind can help you and your clients live a positive and happy life.
The power of your thoughts and how your past programming may be affecting your results today
Treating mindfully for business success
Treating mindfully for client success
Stress management techniques
Learning how to promote healing through positive words
Dr Karen Lucas B.Ap.Sci.(Human Movement)(Hons.) Ad.Dip(Myotherapy),PhD(Myofascial pain)
Complex Shoulder & Upper limb pain: Integrated Orthopaedic & Myofascial pain diagnosis & treatment
In recent years there has been much debate around muscle pain and tension, with early discussion centring on the concept of the myofascial trigger point. More recently, other hypotheses have been suggested to underpin the clinical presentation of muscular pain and its associated phenomena, including reduced range of motion and weakness. This presentation will explore potential contributors to muscle pain and tension, both centrally and peripherally. It will also suggest assessment tools for contributing factors and suggestions on communicating with clients to create optimal outcomes and maintain professional integrity.
Learning Objectives/Take home skills
At the conclusion of this presentation, delegates will be able to:
Understand the current discussion of myofascial trigger points and myofascial pain.
The current hypotheses around the mechanisms of muscle pain and tension and what this means for clinical management
How to assess muscle pain and tension
How to assess for the contributing factors of craniofacial muscle pain and tension
Suggestions on how to frame information and communication for co-management (referral) muscle pain or tension and when it's necessary
Jason Stacy ATC, CSCS Mindset & Performance Coach, Soft Tissue Therapist, Speaker/Educator, Mentor
Core Stiffness: The Dysfunctional Link?
Practical Applications for Therapists & Coaches ( to reduce Injury Rates, Improve Recovery & Increase Performance)
We should always aim to get our people back to pain free or performing as soon as possible!!! And when possible, have them leave us better than BEFORE they were in pain/injured! To do so, we must find ways to be as effective with our time as possible.
It is widely accepted that the core and its various structures play a vital role in human movement, function, and injury prevention (at least injury reduction)
However, there is a common gap between rehab focused work and performance/fitness. How can we create a bigger bang for the buck treatment/exercise/rehab plan?
We will discuss, demonstrate, and do!!!
 Core Stiffness:
What is it and Why it matters?
How is it currently trained- (rehab and performance settings)
Does is translate into practical applications "function"
How and where does this fit into the soft tissue therapy treatment plan
How we can apply these same models to treating the extremities
Several practical applications will be demonstrated, discussed and an open invite to come on stage and have a play!!!
Dr Ebonie Rio PhD, Bachelor of Applied Sci, Bachelor of Physio (hons), Masters of Sports Physio
Tendons – changing the way we think about rehabilitation
This presentation will cover key clinical questions for tendon assessment and an overview of best practise rehabilitation, tips and tricks.  How do you know if someone has tendon pain and is that important?  What happens to the brain with tendon pain? The latest information about rehabilitation and neuroplasticity will be covered including practical tips for using Monday morning.  Differential diagnosis of the knee will also be covered in a demonstration (with amazing AV so you can all see) with loads of time for your tricky tendon questions.