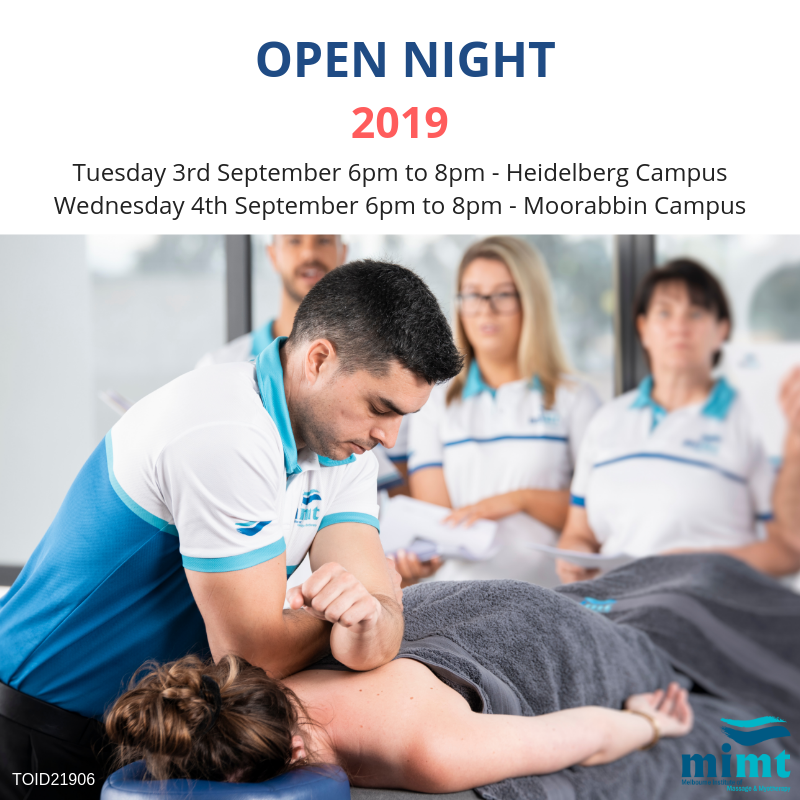 REGISTER YOUR DETAILS BELOW TO ATTEND
Want to change careers? Become a massage therapist with MIMT
If you're looking to change your careers and become a professional massage therapist, then our Open Nights are a great place to start and provide you with all the details you require.
This is an informal night where we can answer the most commonly asked questions and give you the opportunity to find out more.
Course Advisors will be on hand between 6-8pm so please feel free to turn up between these times and we can give you a tour of the campus.
This Open Night is for people that currently have no qualifications in the massage industry and are lookgin to get started in the industry.
We'll be able to answer lots of questions, such as:
How long is the course?
Which course is right for me?
What does it cost?
Am I eligible for government funding?
What are the career opportunities?
I'm sure there are more questions, which is why we are running our Open Nights at both campuses prior to our next intakes. These nights are popular so we would like to get an idea of how many people will be attending. Therefore we would be grateful if you could register your place (see below).
If you're already a Massage Therapist looking to up-skill to the Diploma or a Remedial Massage Therapist looking to up-skill to the Advanced Diploma of Myotherapy, then please contact our Course Advisors for a private tour on: 1300 839 839 or info@mimt.edu.au
Heidelberg Information Evening
Tuesday 3rd September @ 6pm – 8pm
MIMT, 84 Mount Street, Heidelberg, VIC, 3084
Moorabbin Information Evening
Wednesday 4th September @ 6-8pm
MIMT, 1/18 Station Street, Moorabbin, VIC, 3189
All attendees will also receive our eBook 'Everything you need to know about becoming a Massage Therapist'.
We do require you to REGISTER if you wish to attend, so please fill out the form below to register your interest!
SPACES ARE LIMITED