is proud to present the
SOFT TISSUE THERAPY CONGRESS 2018
Now in its 6th year , this "must attend" event for Soft Tissue Therapists, Remedial Massage Therapists and Myotherapists alike, will provide you with enhanced skills in your assessment and treatment protocols. This premier one day intensive congress continues to give the therapist takeway skills to use immediately in practice.
Sunday 21st October 2018
9am to 5:30pm 
Where:
Deakin University, (Lecture Theatre 1, Building I), 221 Burwood Highway, VIC, 3125
Cost:
MIMT graduate $249
Non MIMT graduate $269
 What's included:
Included in the price of this premier congress will be your entrance to the Congress plus morning, afternoon tea and lunch and the opportunity to network with like minded therapists.
Please click on the image below to view the Congress Flyer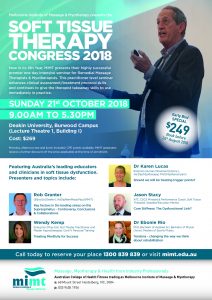 CPE 

ANTA  8 CPE hours (confirmed)
Myotherapy Association Australia 8 PDP's in Formal Category (confirmed)
AMT 35 CEU's (confirmed)

M & MA 10 CPE POINTS (confirmed)

MAA 20 CPE POINTS (confirmed)
(All points have been applied for and the above is based on the points awarded for the last 3 years).
Registration
If you wish to register for the event then please contact our friendly staff on 1300 839 839 or email info@mimt.edu.au
Alternatively you can click on the registration form below and return it by fax (03 9455 1851) or email info@mimt.edu.au
Registration is also avaialble in our online shop.
Registration form (click below)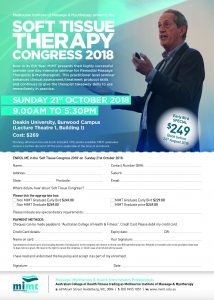 Module overview
Module overviews can be found by clicking below:
Dr Karen Lucas B.Ap.Sci.(Human Movement)(Hons.) Ad.Dip(Myotherapy),PhD(Myofascial pain)
Karen began her career as an Exercise Physiologist before qualifying as a Myotherapist 24 years ago. During that time she has also completed a PhD in the then Clinical Neurophysiology Lab at RMIT University and a Masters in the Science of Medicine in Pain Management in the Faculty of Medicine at Sydney University. Her doctoral thesis was examined by Professor David Simons, the lead author of the Trigger Point Manuals. She has presented her work many times at both Australian and international congresses and has taught undergraduate and postgraduate courses to Myotherapy, Massage, Chiropractic, Movement Science and Physical Education students. Her professional interests include the neurophysiology underpinning myofascial dysfunction in order to optimise movement performance. She is passionate about connecting Australian Soft Tissue Therapists with international research and clinical communities and in bridging the gaps between research and practice.
Rob Granter (BsocSci (Deakin), AdDipRemMass (Myo)(RMIT)
Rob has 33 years experience in Soft Tissue Therapy within the Australian Sports Medicine Multidisciplinary Model and has delivered over 30 Conference presentations since 1992 within Australia, the UK & New Zealand.
He was a Contributor to the textbook "Clinical Sports Medicine" by Drs Brukner & Khan now in its 5th edition.
He is co-founder of the Australasian College of Soft Tissue Therapy.
Rob has been head of Massage Therapy / Myotherapy for:
The Sports Medicine Centres of Victoria group practice 5 years,
Olympic Park Sports Medicine Centre 8 years,
Victorian Institute of Sport 10 years
Essendon AFL Football club 7 years,
Australian Olympic teams to Atlanta 1996, Sydney 2000.
Australian Commonwealth Games team Kuala Lumpur 1998
And the 2006 Commonwealth Games, Melbourne
Rob currently is in private practice in Melbourne and is a Senior Lecturer at MIMT.
Wendy Kemp B.App.Sci (Phys Ed), NLP Master Practitioner and Master Hypnotherapist, Cert IV Personal Training
Wendy Kemp is a mother, lover of life, wellness coach, teacher, business owner and change inspirer.
She has dedicated herself to helping others find their true self and to achieving their goals.
Wendy is a Master Practitioner NLP and Hypnotherapist and has been assisting clients to change their habits and feel more positive about themselves for the past 8 years. She has always been interested in health and fitness, teaching PE to secondary students for 7 years, Anatomy to massage students for 24 years and owning and running a women's gym for 6 years. However, it was not until she sought help to overcome the challenge of the breakdown in her marriage that she realised the true power of the brain and it's key to a balanced, positive healthy lifestyle. This knowledge opened the door to a career assisting others to have more positive outcomes in their lives.
Wendy is a Senior Lecturer at MIMT and presents to both our Certificate and Diploma students in the areas of Musculoskeletal Anatomy, Systemic Anatomy, Pathology, Physiology, Regional Anatomy and Biomechanics and assists in the development of course materials.
She is the founder of Cre8ing Momentum and enjoys communicating and inspiring others on her facebook page "I am More Than A Mum".
She has been a guest motivational speaker at Performance Healthcare, Diamond Valley Secondary College, Land Association and many gyms and loves the opportunity to share her knowledge with as many people as possible!
Wendy lives by her favourite quote, "When you truly love life and people you start a ripple effect that changes the life of another…who in turn changes the life of another….until one person and one ripple at a time the world is changed".
She believes that we can all make a positive difference in another's life!
Jason Stacy  ATC, CSCS Mindset & Performance Coach, Soft Tissue Therapist, Speaker/Educator, Mentor
Jason Stacy has over 20 year's experience as a High-Performance Coach and Soft Tissue Therapist. He says coaching more than his job, it is part of his DNA.
Jason has physically and mentally prepared some of world's best athletes & coaches in a number of sports across the globe. Including, Tennis, Swimming, Golf, Professional Dance, Combat Sports (MMA/BJJ/Wrestling), Gymnastics, Table Tennis, Football, & Soccer.
Many of his athletes have qualified for their countries National and Olympic teams.
Following his Mindset & Movement methods, several of his athletes have become Olympic, World and Commonwealth Champions.
After living on 4 different continents and working in over 30 countries, it is natural that he takes a "Person First" approach to his coaching. He strongly believes to build a champion, you must spend equal amounts of time & energy on developing the person, not just the player. The Mindset and the Movement are inseparable.
When he is not mentoring coaches or helping his athletes become the best in the world, you will find him doing 1 of 3 things, Studying, Teaching, or Sweating…and often he's doing all 3 at once!!
Jason's business, The Coaching Sweet Spot focuses on the further development of coaches, trainers and therapist via his Mindset Movement Mentorships and various Practical, Hands-on Workshops. Of course, he also continues to train and treat a variety of athletes in a wide range of sports from junior to elite.
Loyalty, Purpose, Passion, & Trust.
These words are what Jason refers to as his, "COMPASS"
The guiding force behind all his actions.
Dr Ebonie Rio PhD, Bachelor of Applied Sci, Bachelor of Physio (hons), Masters of Sports Physio
Ebonie is a post doc researcher at La Trobe University and has completed her Phd in tendon pain, Masters Sports Phys, Ba. Phys (hons) and Ba. App Sci.  Her research has been awarded Victorian Fresh Scientist of the year 2015, ASICS SMA Best New Investigator 2004, 2013 & 2014 in Clinical Sports Medicine, best clinical science Pain Adelaide 2013, BJSM young investigator Best Clinical Paper 2014 and the Professor Mollie Holman medal for the best thesis of the faculty of Medicine, Nursing and Health Sciences Monash University 2015 and the ECR best paper 2015.  Her clinical career has included Australian Institute of Sport, Australian Ballet Company, Australian Ballet School, Melbourne Heart football club, Alphington Sports Medicine Centre, Victorian Institute of Sport, Commonwealth Games 2006, 2010 Vancouver Winter Olympics, 2010 Singapore Youth Olympics, 2012 London Paralympics, 18 months travelling with Disney's The Lion King stage show (Melbourne and Shanghai tour) and she was awarded the Post-Graduate Scholarship at the AIS (2007).
ENROLMENTS FOR THIS YEARS CONGRESS ARE NOW CLOSED. THANKS TO EVERYONE THAT'S ENROLLED, LOOK FORWARD TO SEEING YOU THERE.