SAVE THE DATE
SOFT TISSUE THERAPY CONGRESS 2018
SUNDAY 21ST OCTOBER 2018, DEAKIN UNIVERSITY
WATCH THIS SPACE FOR FURTHER DETAILS

is proud to present the
SOFT TISSUE THERAPY CONGRESS 2017
*******ENROLMENTS ARE NOW CLOSED FOR THE CONGRESS*********
Now in its 5th year , this "must attend" event for Soft Tissue Therapists, Remedial Massage Therapists and Myotherapists alike, will provide you with enhanced skills in your assessment and treatment protocols. This premier one day intensive congress continues to give the therapist takeway skills to use immediately in practice.
Sunday 22nd October 2017
9am to 5:30pm 
Where:
Deakin University, (Lecture Theatre 1, Building I), 221 Burwood Highway, VIC, 3125
Cost:
MIMT graduate $249
Non MIMT graduate $269
 What's included:
Included in the price of this premier congress will be your entrance to the Congress plus morning, afternoon tea and lunch and the opportunity to network with like minded therapists.
Please click on the image below to view the Congress Flyer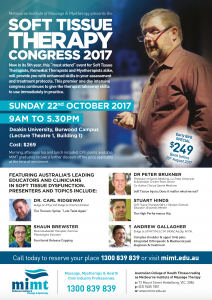 CPE 

ANTA  8 CPE hours (confirmed)
Myotherapy Association Australia 8 PDP's in Category 1A (confirmed)

AMT 35 CEU's (confirmed)

M & MA 10 CPE POINTS (confirmed)

MAA 20 CPE POINTS (confirmed)
(All points have been applied for and the above is based on the points awarded for the last 3 years).
Registration
If you wish to register for the event then please contact our friendly staff on 1300 839 839 or email info@mimt.edu.au
Alternatively you can click on the registration form below and return it by fax (03 9455 1851) or email info@mimt.edu.au
Registration is also avaialble in our online shop.
Registration form (click below)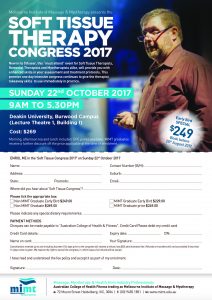 Module overview
Click here for a module overview
Detailed bio's of all conference presenters can be found below:
Dr Carl Ridgeway
Carl Ridgeway is an osteopath in private practice for the past ten years; working with clients of all ages particularly in the areas of sports and work related issues. Rehabilitation programs and preventative measures are a major component of his work and he has a special interest in postural analysis. Carl has been lecturing to remedial/myo therapists for 15 years.  Working as a physical education teacher for 8 years prior to his time in private practice.
Carl is a Senior lecturer at MIMT and presents  to both our Diploma & Advanced Diploma students in the areas of Regional Anatomy, Clinical Assessment, Muscle Energy Techniques, Mobilising Massage, Electrotherapies and assists in the development of course materials.
History of presentations
Oct 2015 –  MIMT – Soft Tissue Therapy Congress – It's all about the foot – the influence of the foot on the mechanics of the lower extremity
Oct 2014 –  MIMT – Soft Tissue Therapy Congress – Thoracic & Lumbar position; It's a matter of position
Oct 2013 –  MIMT – Soft Tissue Therapy Congress – Thoracic Spine "thinking outside the box" & Cervical Spine "Local or Thoracic Driven"
June 2011 AAMT- Advanced Functional Assessment (Mildura- 1 day)
May 2011 AAMT Eastern Region Meeting- Postural Analysis revisited Pt 11 (2 hours)
Dec 2010 AAMT- Advanced Functional assessment (Mornington- 1day)
Oct 2010 MET Revisited- MIMT (2 days)
Aug 2008 AAMT Eastern Region Meeting- Postural Analysis Revisited (2hrs)
May 2008 Systemic Postural assessment and Corrective Exercise (4 days)
Sept 2007 Postural Assessment and Exercise Programming (1 day)
Jan 2007 Muscle Energy Technique and Mobilising Techniques for the Neck (1 day)
June 2006 Stress and Posture- Exercises to maintain health; AMI College (1 day)
June 2005 Stress and Posture; Damascus College, Ballarat (1 day)
May 2004 Stress and Posture- Exercises to combat, Sacred Heart College (1 day)
Qualifications
B.App.Sc (Clinical Science)/ B.Osteo
B.App.Sc (Physical Education)
Shaun Brewster
Shaun Brewster has been an clinician and educator in the manual therapy industry for almost 20 years. His teaching experience spans formal education in training institutions, to post graduate professional development and mentoring practitioners.
Clinically Shaun is well known in the endurance sporting community for his work in sports injury treatment and also coaching.
As co-director of Continuing Education Australia, his passion is to connect health practitioners and assist them in raising the quality of their services and also help them get more out of the work they do. 
History of Presentations
ANTA National Summits 2016/2017 – Mastery of Business
AAMT National Conference 2014 – Massage in the Sports Setting & Understanding Barefoot Running – Biomechanics & Injury
Stuart Hinds
 Stuart Hinds is one of Australia's leading soft tissue therapists, with over 25 years of experience as practitioner, working with elite sports athletes, supporting Olympic teams, educating and mentoring others as well as running a highly successful clinic Geelong.
Recognised for his expertise in working with Elite Athletes, Stuart  has played a key role in soft tissue support with the Australian Olympics Team since 2000 at four separate Olympics (2012 London Olympics, the 2008 Beijing Olympics, the 2004 Athens Olympics and the 2000 Sydney Olympics).
Stuart has also worked with athletes at his Geelong Clinic including elite road cyclists. He has also worked with the National Premiership winning Geelong Football Club (Australian Rules Football League). 
Recognised for his expertise he regularly lectures on remedial soft tissue techniques at Victoria University (Melbourne Australia), where he received a Diploma in health (Remedial Massage). He is regularly a keynote speaker at conferences, such as:
Presenter – Australian Conference in Science and Sport, Canberra 2003.
Pleanary Presenter – Australian Association of Massage Therapists National Conference, Canberra 2005, Hobart 2009.
Presenter – The Institute of Registered Myotherapists National Conference, Melbourne 2007.
Stuart also has a strong following of practitioners across Australia and globally who tap in to his expertise as a soft tissue specialist as well as running a highly successful clinic. Stuart delivers a range of highly sought after seminars across Australia, supported by online videos and webinars and one on one mentoring to help support his colleagues to build successful businesses. Stuart is a strong believer in professional development and he devotes over 100 hours a year to this, meeting with like-minded professionals and attending specialist educational workshops across the globe. Stuart has a Diploma in Health from Victoria University (Remedial Massage)
Stuart also regularly published articles both nationally and internationally relating to soft tissue treatment and its relationship to musculoskeletal dysfunction within industry journals and mainstream publications.
Andrew Gallagher
 Andrew established the Myofascial Pain Study Centre, to provide advanced training in Myofascial Pain Management methods for health practitioners.
In addition to conducting training at the centre over the last 24 years, Andrew has also lectured extensively at an undergraduate and post graduate level on Myofascial Pain across a broad range of clinical areas including orofacial pain, sports medicine, industrial rehabilitation and hand therapy practice.
Experience and qualifications in pain management
Andrew's clinical interests are in the treatment of complex musculoskeletal pain and in particular chronic orofacial pain. Andrew is the Principal of the Craniomandibular Rehabilitation Clinic, which provides specialist treatment services in Melbourne and Ballarat focusing on orofacial pain and temporomandibular joint (TMJ) dysfunction.
In addition to his clinical and teaching commitments Andrew has been engaged since 1994 with the Victorian Workcover Authority as a consultant Physiotherapist to the Independent Medical Panel.
Andrew Gallagher a physiotherapist with 35 years of clinical experience, whose involvement in  massage education began when he co founded the Victorian School of Massage and Physical Culture in 1981. Since that time he has conducted numerous courses ,workshops and seminars on the topic of Myofascial pain for a wide range of health practitioners. Currently he is in private practise in Ballarat and Daylesford where his clinical interest is the treatment TMJ  and Orofacial pain.
Dr Peter Brukner
 Peter Brukner OAM, MBBS, FACSP, FACSM, FASMF, FFSEM is a specialist sports and exercise physician and the founding partner at the Olympic Park Sports Medicine Centre in Melbourne. Peter is a world renowned sports medicine clinician and researcher. He has recently been Head of Sports Medicine and Sports Science at Liverpool Football Club and is currently Team Doctor for the Australian cricket team.
Peter is Associate Professor in Sports Medicine at the Center for Health, Exercise and Sports Medicine at the University of Melbourne. He has served two terms as President of the Australian College of Sports Physicians during which time he was instrumental in the establishment of a specialist level training program in Australia for sports medicine physicians. Peter was the first Australian to be elected to the Board of the American College of Sports Medicine. 
Peter has published widely internationally with a number of books, book chapters and over 90 original research articles. He is the co-author of Clinical Sports Medicine, a best selling general sports medicine text in its fourth edition as well as Stress Fractures, Food for Sport,  Encyclopedia of Exercise and Sport Health and Clinical Sports Anatomy.
His major area of research interest has been in overuse injuries particularly stress fractures, but he has also published widely in areas such as groin pain, exercise-related lower leg pain, fatigue and the female athlete. Peter has been the keynote speaker at numerous international conferences including the World Congress of Sports Medicine, the Asian Congress of Sports Medicine, the American College of Sports Medicine and the British Association of Sports Medicine. He is currently Senior Associate Editor of the British Journal of Sports Medicine and has previously been Senior Associate Editor of the Clinical Journal of Sport Medicine and Current Sports Medicine Reports as well as being a past editor of Sport Health.
Peter has been team physician for Melbourne and Collingwood AFL clubs as well as national athletics, swimming, soccer and men's hockey teams. He was an Australian Team Physician at the Atlanta Olympic Games, Team Manager of the Australian athletics team at the Sydney Olympics and a National Selector for Athletics Australia. He was the Socceroo's Team Doctor for the 2010 World Cup campaign. In 2008 Peter was elected to the Board of Hockey Australia.
His contribution to sports medicine has been recognised by the award of the inaugural Citation for Distinguished Service by the Australian College of Sports Physicians and the Citation Award of the American College of Sports Medicine. In 2006 Peter was awarded the Medal of the Order of Australia (OAM) for services to sports medicine.
Peter has extensive media experience having appeared on most of Australia's sports shows on television and radio. He has previously written a weekly injury column and regular feature articles for The Age, and been part of the ABC Radio football commentary team. For a number of years Peter presented a Health and Fitness show each week on SEN radio as well as a regular injuries show for Fox Footy TV. More recently he has presented on Sky Sports and TalkSport in the UK.
ENROLMENTS CLOSE FRIDAY 13TH OCTOBER 2017. PLEASE CONTACT MIMT on 1300 839 839
or ENROL ONLINE THROUGH OUR ONLINE SHOP: 
Soft Tissue Therapy Congress 2017 (MIMT Graduate Price) & 
Soft Tissue Therapy Congress 2017 (non MIMT Graduate Price)